Ceftazidime Injection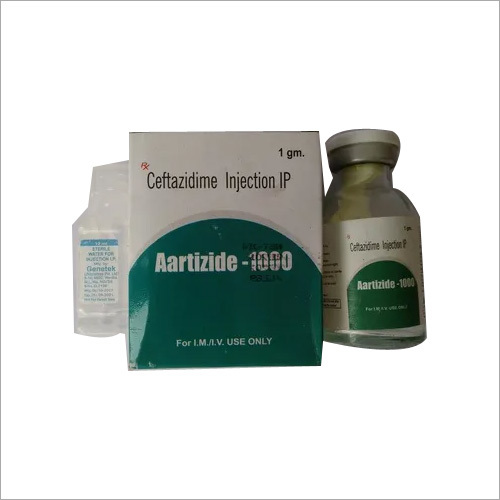 Ceftazidime Injection
Product Description
A ceftazidime injection is prescribed for treating certain bacterial infections. This injectable drug belongs to a class of medications known as cephalosporin antibiotics. The medication kills bacteria that causes infections, such as pneumonia, meningitis, brain and spinal cord infections, skin infections and urinary tract infections. It will not treat colds, flu, or other viral infections. If you use antibiotics such as this when you do not need them, you might get an infection that is resistant to antibiotic treatment.
FAQs of Ceftazidime Injection:
What Is Ceftazidime Injection?
Ceftazidime Injection is a professionally prescribed drug used to treat different bacterial contaminations. It has a place with the class of anti-infection agents known as cephalosporins and is successful against a large number of microorganisms.
What Conditions Is Ceftazidime Injection Utilized For?
Ceftazidime Injection is normally used to treat contaminations like pneumonia, urinary lot diseases, skin and delicate tissue contaminations, intra-stomach contaminations, and bacterial septicemia.
How Does Ceftazidime Function?
Ceftazidime works by impeding the combination of bacterial cell walls, prompting the disturbance of bacterial development and inevitable demise of the microscopic organisms.
Is Ceftazidime Injection Compelling Against A wide range of Diseases?
Ceftazidime is compelling against numerous bacterial diseases, yet it may not be fitting for all contaminations. It is vital to counsel a medical services supplier to decide the most reasonable therapy.
How Is Ceftazidime Injection Controlled?
Ceftazidime Injection is typically directed intravenously (IV) or intramuscularly (IM) by a medical care proficient in a medical clinic or clinical setting. The dose and length of treatment rely upon the sort and seriousness of the contamination.
Trade Information
Cash on Delivery (COD) Cash Against Delivery (CAD) Cash Advance (CA) Cash in Advance (CID)

Per Day